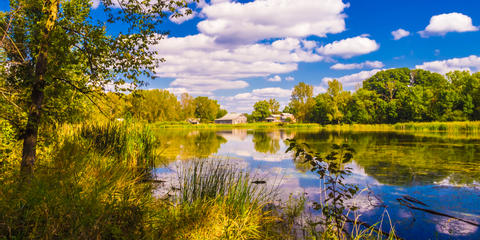 ACEP Wetland Reserve Enhancement Partnership
(WREP)
Natural Resources Conservation Service
Closed August 15, 2021
---
The Wetland Reserve Enhancement Partnership (WREP) is a voluntary program through which NRCS enters into agreements with eligible partners to leverage resources to carry out high priority wetland protection, restoration, and enhancement and to improve wildlife habitat. It is part of the Wetland Reserve Easement (WRE) component of the Agricultural Conservation Easement Program (ACEP), a Farm Bill conservation program.
Program at a Glance:
Through WREP, state agencies, county and local governments, non-governmental organizations and American Indian tribes are encouraged to submit proposals for priority project areas to collaborate with NRCS through program and partnership agreements. Once a proposal is accepted for funding the partners work with tribal and private landowners who voluntarily enroll eligible land into easements to protect, restore and enhance wetlands on their properties.
The voluntary nature of NRCS easement programs enables effective integration of wetland restoration on working landscapes, providing benefits to farmers and ranchers who enroll in the program, as well as benefits to the communities where the wetlands exist. Easements enable landowners to adopt a variety of conservation practices with the help of funding from NRCS that improve the function and condition of wetlands.
Benefits:
Wetland Reserve Easements protect important wetlands within an agricultural landscape, provide habitat for fish and wildlife, including threatened and endangered species, improve water quality by filtering sediments and chemicals, reduce flooding, recharge groundwater, protect biological diversity and provide opportunities for educational, scientific and limited recreational activities.
Partner benefits through WREP agreements include:
Wetland restoration and protection in areas where priorities align to enable greater impacts on the landscape;

Ability to cost-share restoration or enhancement beyond NRCS requirements through leveraging;

Ability to provide in-kind staff capacity for acquisition, due diligence and restoration activities.
Ranking Considerations:
NRCS will prioritize applications for projects that:
Provide maximum partner resources as match;

Support the goals and objectives of an NRCS Landscape Conservation Initiatives;

Protect habitat that benefits migratory birds and wetland-dependent wildlife;

Provide direct benefits to federal and state threatened and endangered species; and

Include targeted outreach to underserved groups in the agricultural community.
---
Eligibility
Through WREP, under the Wetlands Reserve Easements component of ACEP, partners work with NRCS to help restore, protect and enhance enrolled wetlands directly with private landowners and Indian tribes through the purchase of an NRCS Wetland Reserve Easement. Eligible lands, which include farmed or converted wetland habitat that can be successfully and cost-effectively restored, may be enrolled under permanent easements, 30-year easements, or 30-year contracts (for acreage owned by Indian Tribes). For lands enrolled through wetland easements, NRCS will also develop and implement a Wetland Reserve Easement restoration plan that will restore, protect, and enhance the wetland's functions and values.
Partner contributions must equal at least 10 percent of the total estimated costs for easement acquisition related costs and restoration implementation costs. Proposals that provide partner contributions greater than 10 percent will be given higher consideration in the selection process.
---
Application Instructions
Partners interested in WREP are encouraged to work with their NRCS state office as part of developing the proposal. Proposals must follow ACEP criteria for Wetland Reserve Easements.
Proposals must be emailed to the NRCS state office contact listed in the local announcement by August 15, 2021.
Individual landowners interested in enrolling their land in a Wetland Reserve Easement may apply at any time at their local USDA Service Center.
Support
---
Resources
---
---
Details
Organization
Natural Resources Conservation Service (NRCS)
Financial Instrument
Easement, Grant, Cost Share
---
Updated December 22, 2022
This information was gathered from public sources. Ambrook is not responsible for or able to affect the results of any financial programs listed, nor are they responsible for any incorrect information that is listed or is on the hyperlinked external sites. All information is subject to change.
---
Explore hundreds more programs on Ambrook.