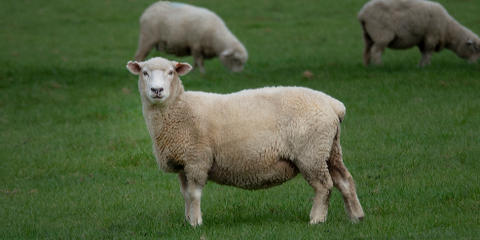 Sheep Production and Marketing Grant Program
(SPMGP)
Agricultural Marketing Service
Closed September 15, 2022
---
The Sheep Production & Marketing Grant Program seeks to develop solutions for practical problems on a national basis and address the needs of the entire sheep industry, while focusing on the measurable benefits for sheep producers, encouraging partnerships among other sheep industry organizations, and reducing duplication of effort among participating organizations.
Financial assistance provided by the center must accomplish one or more of the following objectives:
Strengthen and enhance the production and marketing of sheep and sheep products in the United States through the improvement of infrastructure, business, resource development and the development of innovative approaches to solve long term problems.

Provide leadership training and education to industry stakeholders.

Assist all segments of the industry in addressing sustainable production and marketing of sheep and sheep products.

Promote marketing of sheep and sheep products through an organized method that can measure tangible results.

Enhance the sheep industry by coordinating information exchange and seeking mutual understanding and marketing within the industry community.
---
---
Eligibility
An eligible entity means any entity that promotes the betterment of the U.S. sheep industries including LLC's, partnerships, corporations, cooperative organizations, associations, a federally recognized Indian Tribe and public or quasi-public agencies. The entity may be operated as a for-profit or a not-for-profit entity and must provide an EIN (Employer Identification Number). The NSIIC does not require a Catalog of Federal Domestic Assistance (CFDA) number. Applicant must have credentials demonstrating expertise in project content.  Applications submitted by an individual are not allowed.  
---
Terms
Overhead is limited to no more than 7.5% of the total grant request.  Unrecovered indirect costs are not an allowable source of matching funds. 
---
Application Instructions
Download the application (Below)

Form may also be mailed to NSIIC at address on the application. 
Please note that hand written applications will not be considered. 
Support
---
---
Resources
---
---
Details
Deadline
September 15, 2022
Organization
Agricultural Marketing Service (AMS)
Financial Instrument
Grant
Total Program Funding
$300,000
---
Updated September 10, 2022
This information was gathered from public sources. Ambrook is not responsible for or able to affect the results of any financial programs listed, nor are they responsible for any incorrect information that is listed or is on the hyperlinked external sites. All information is subject to change.
---
Explore hundreds more programs on Ambrook.