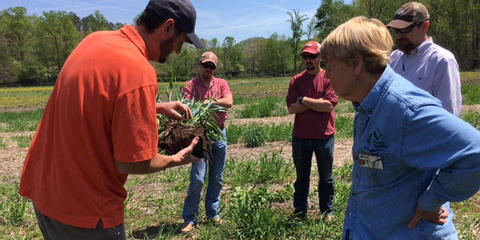 North Central SARE Professional Development Grant
Sustainable Agriculture Research and Education
Closed April 6, 2023
---
The North Central Region SARE (NCR-SARE) Professional Development Grant Program supports state professional development programs and competitive grants for training agricultural professionals.
Professional Development Program (PDP) competitive grants emphasize training agricultural educators in extension, Natural Resources Conservation Service, private, and not-for-profit sectors, using farmers as educators and addressing emerging issues in the farm community. Applicants are educators who often represent but are not limited to, Extension, Natural Resources Conservation Service, and non-profit groups. PDP competitive grants are awarded for state and multi-state PDP projects that emphasize cross-agency training, using farmers as educators and addressing emerging issues in the farm community. 
---
Eligibility
Proposals must be targeted to educators within the Cooperative Extension Service (CES), Natural Resources Conservation Service (NRCS), other governmental agencies, and/or educators and other relevant personnel in the non-profit and for-profit sectors serving farmers and ranchers. Projects can be for up to 36 months in duration. Involvement of educators from more than one state is appropriate but not required. 
---
Terms
Funding decisions are made by NCR-SARE's regional Administrative Council, after receiving feedback from a review committee. The Administrative Council is a collection of farmers, ranchers, university representatives, nonprofit representatives, Extension and NRCS people, other government employees, and agribusiness representatives. This group sets research priorities and recommends projects for funding.
Before writing a grant proposal, determine a clear project goal and explore previous research. It often helps to contact NCR-SARE, local agriculture groups, the Natural Resources Conservation Service, and/or Extension educators to share ideas and invite participation. 
---
---
---
---
Details
Release Date
February 24, 2023
Organization
Sustainable Agriculture Research and Education (SARE)
Financial Instrument
Grant
Maximum Award Amount
$90,000
---
Updated February 25, 2023
This information was gathered from public sources. Ambrook is not responsible for or able to affect the results of any financial programs listed, nor are they responsible for any incorrect information that is listed or is on the hyperlinked external sites. All information is subject to change.
---
Explore hundreds more programs on Ambrook.