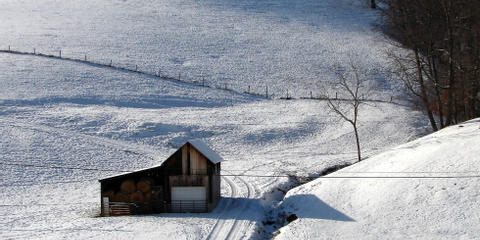 Emergency Assistance for Livestock, Honey Bees, and Farm-Raised Fish
(ELAP)
Farm Service Agency
Due January 30, 2024
---
The Agriculture Improvement Act of 2018 (the 2018 Farm Bill) authorized the use of Commodity Credit Corporation (CCC) funds for the Emergency Assistance for Livestock, Honeybees and Farm-Raised Fish Program (ELAP). ELAP provides financial assistance to eligible producers of livestock, honeybees and farm-raised fish for losses due to disease, certain adverse weather events or loss conditions, including blizzards and wildfires, as determined by the Secretary. ELAP assistance is provided for losses not covered by other disaster assistance programs authorized by the 2014 Farm Bill, such as losses not covered by the Livestock Forage Disaster Program (LFP) and the Livestock Indemnity Program (LIP).
In 2021, USDA updated ELAP policy to help cover the cost of transporting feed for livestock that rely on grazing. USDA has expanded the program to help ranchers cover above normal costs of hauling livestock to forage or other grazing acres.
---
---
Eligibility
ELAP provides assistance for livestock feed and grazing losses that are not due to drought or wildfires on federally managed lands; losses resulting from the cost of transporting water to livestock due to an eligible drought; losses resulting from the additional cost associated with gathering livestock for treatment and/or inspection related to cattle tick fever, honeybee feed, colony and hive losses; and farm-raised fish feed and death losses.
An eligible livestock, honeybee or farmraised fish producer who certifies they are socially disadvantaged, limited resource, beginning, or a veteran farmer or rancher will receive 90 percent of the payment rate for the losses under ELAP.
The average adjusted gross income (AGI) limitation relating to limits on payments for persons or legal entities, excluding joint ventures and general partnerships, with certain levels of AGI apply. Specifically, a person or legal entity with an AGI (as defined in 7 CFR Part 1400) that exceeds $900,000 is not eligible to receive ELAP payments. Direct attribution provisions also apply to ELAP. Under direct attribution, any payment to a legal entity will also be considered for payment limitation purposes to be a payment to persons or legal entities with an interest in the legal entity or in a sub-entity.
---
Terms
Producers can apply to receive ELAP assistance at local FSA service centers. The ELAP application period ends Dec. 31 of each calendar year.
In addition to submitting an application for payment, producers who suffered losses must submit a notice of loss to the local FSA service center that maintains the farm records for their business.
For honeybee losses, producers must file notice of loss with the FSA within 15 days after loss is apparent. For Livestock and farm-raised fish losses, producers must file notice of loss with the FSA within 30 days after loss is apparent.
Producers may submit an application for payment from ELAP anytime during the program year and up until January 30th of the following year.
---
Application Instructions
Contact your local FSA Service center to apply.
Support
---
---
---
Details
Organization
Farm Service Agency (FSA)
Financial Instrument
Grant
Maximum Award Amount
$125,000
---
Updated July 15, 2023
This information was gathered from public sources. Ambrook is not responsible for or able to affect the results of any financial programs listed, nor are they responsible for any incorrect information that is listed or is on the hyperlinked external sites. All information is subject to change.
---
Explore hundreds more programs on Ambrook.