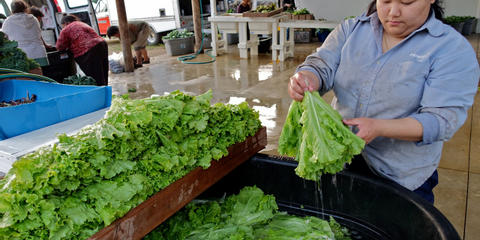 Massachusetts Agricultural Food Safety Improvement Program
(AFSIP)
Massachusetts Department of Agricultural Resources
Closed May 26, 2023
---
The Agricultural Food Safety Improvement Program (AFSIP) supports produce and aquaculture operations that are looking to improve their food safety practices that work towards minimizing the risks of microbial contamination and food-borne illnesses while increasing market access. In addition, by implementing these practices the goals of the Program is to meet regulatory requirements under the Food Safety Modernization Act (FSMA) and to increase competitive market access by meeting buyer demands for demonstrated practices that work towards protecting public health and food safety.
---
Eligibility
Eligible Applicants
Produce operations that grow, harvest, pack, or hold produce as defined by 21 C.F.R. § 112 and that are principally and substantially engaged in the business of production agriculture or farming for commercial purposes under M.G.L. c. 128, Section 1A.

Aquaculture farmers as defined by M.G.L. c.128, Section 1A, currently licensed, who raise a marine or aquatic species intended for human food.
Eligible Projects
Practices that help prevent or reduce on-farm food safety risks on produce or aquaculture farms.
Produce Examples: 
Water systems, delivery, treatment devices, processing and washing equipment

Portable restrooms and/or hand washing sinks (mobile or stationary)

Harvest & storage equipment (bins, totes, bin storage, racks)

Packing shed walls, ceilings, and light fixtures

Drainage systems for coolers and washing & packing areas

Wildlife fencing; Pest deterrent

Refrigeration/Cooling Equipment
Aquaculture Examples: 
Walk-in refrigeration units
---
Terms
Maximum funding per applicant is 80% of total project costs up to $40,000.

A minimum cash match of 20% of the total project costs is required.
---
Application Instructions
The AFSIP application starts on page 14 of the RFR (Below).
Submit your completed application package by email, regular mail or in person:
Email:
Mailing Address:
Laura J. Maul
Program Coordinator
Department of Agricultural Resources
30 Riverside Drive, Suite 202
Lakeville, MA 02347
Hand-Delivery Address:
Laura J. Maul
Program Coordinator
Department of Agricultural Resources
30 Riverside Drive, Suite 202
Lakeville, MA 02347
Support
---
---
---
---
Details
Release Date
March 31, 2023
Organization
Massachusetts Department of Agricultural Resources (MDAR)
Financial Instrument
Grant, Cost Share
Maximum Award Amount
$40,000
---
Updated June 2, 2023
This information was gathered from public sources. Ambrook is not responsible for or able to affect the results of any financial programs listed, nor are they responsible for any incorrect information that is listed or is on the hyperlinked external sites. All information is subject to change.
---
Explore hundreds more programs on Ambrook.