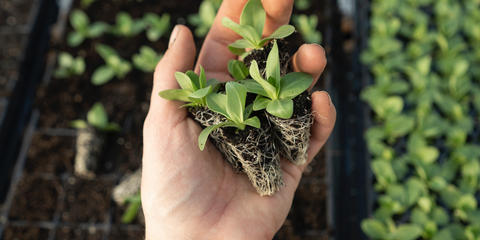 Urban, Indoor, and Emerging Agriculture Grant
National Institute of Food and Agriculture
Closed September 22, 2022
---
The Urban, Indoor, and other Emerging Agricultural Production Research, Education and Extension Initiative (UIE) is a NIFA competitive grant program implemented in 2022 to support research, education and extension activities that facilitate development of urban, indoor, and other emerging agricultural production systems. The UIE emphasizes activities on several segments of the value chain, including production, harvesting, transportation aggregation, packaging, distribution, and marketing needs.
The UIE program seeks applications that address all of the following:
Explain the magnitude of the most urgent and critical needs or problems for urban, indoor, or emerging agriculture and how they will be addressed in the grant;

Focus on opportunities to develop and strengthen:

enhanced quality of life and access to safe nutritious food for urban and Native American communities,

estimated or actual economic return for UIE food production systems,

private industry investment,

site selection and reduce barriers to land access;

Describe a meaningful approach for blending research and extension expertise and other outreach and implementation approaches throughout the project to address principal objectives;

Provide evidence that the project is aligned to stakeholder-provided priorities listed above;

Present expected solutions or improvements and how these will be assessed and measured;

Address the potential costs of a proposed solution and describe how it can be scaled to be sustainable in the short term and long term; and

Explain how the project will strengthen urban, indoor, or other emerging agricultural and food-production systems and how results will be adopted or applied at a local, regional, or national level. 
---
Eligibility
Applications may only be submitted by the following entities:
State agricultural experiment stations;

Colleges and universities;

University research foundations;

Other research institutions and organizations;

Private organizations, foundations, or corporations;

Any group consisting of two or more of the entities described above
---
Terms
The UIE program has NO matching requirement. NIFA will not factor matching resources into the review process as an evaluation criterion. 
---
Application Instructions
Prepare your application and apply on Grants.gov. Find the application by searching for funding opportunity number USDA-NIFA-OP-009221.
To apply for grants on grants.gov you must be registered which is a process that can take multiple weeks, so we recommend you begin the process as soon as possible. You can register at grants.gov here.
Support
---
Resources
---
---
Details
Deadline
September 22, 2022
Organization
National Institute of Food and Agriculture (NIFA)
Financial Instrument
Grant
Maximum Award Amount
$1,000,000
Total Program Funding
$9,400,000
---
Updated August 18, 2022
This information was gathered from public sources. Ambrook is not responsible for or able to affect the results of any financial programs listed, nor are they responsible for any incorrect information that is listed or is on the hyperlinked external sites. All information is subject to change.
---
Explore hundreds more programs on Ambrook.