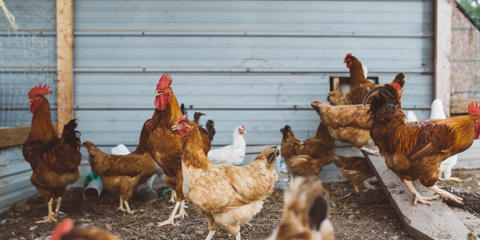 Meat and Poultry Inspection Readiness Grant
(MPIRG)
U.S. Department of Agriculture
Closed May 24, 2022
---
The Meat and Poultry Inspection Readiness Grant (MPIRG) program assists currently operational meat and poultry slaughter and processing facilities in obtaining a Federal Grant of Inspection under the Federal Meat Inspection Act (FMIA) or the Poultry Products Inspection Act (PPIA); or to operate as a State-inspected facility that is compliant with FMIA or PPIA under a respective Cooperative Interstate Shipment (CIS) program.
The MPIRG focuses on:
Improving meat and poultry slaughter and processing capacity and efficiency;

Developing new and expanding existing markets;

Increasing capacity and better meeting consumer and producer demand;

Maintaining strong inspection and food safety standards;

Obtaining a larger commercial presence; and

Increasing access to slaughter/processing facilities for smaller farms and ranches, new and beginning farmers and ranchers, socially disadvantaged producers, veteran producers, and/or underserved communities.
Why would you want a Federal Grant of Inspection?
Obtaining a Federal Grant of Inspection affords you the ability to:
Sell your products through wholesale channels

Sell your products across state lines
On the other hand, acquiring and maintaining a Federal Grant of Inspection comes with significant regulations and responsibilities. If the trade-off is worth it for your operation, MPIRG is a great opportunity to get a grant to help with that conversion.
---
---
Eligibility
Eligible Facilities
To be eligible for a grant, a meat or poultry slaughter or processing facility shall be--
in operation as of the date on which the facility submits to an application for the grant; and

seeking-

to obtain a Federal grant of inspection. or

to be eligible for inspection under a cooperative interstate shipment program (CIS) in a State that participates in that program.
Eligible Activities
A facility that receives a grant may use the grant amount for the below activities as long as the activities contribute to meeting the requirements of obtaining a Federal Grant of Inspection.
the modernization or expansion of existing facilities;

the modernization of equipment;

compliance with packaging and labeling requirements under applicable law;

compliance with safety requirements under applicable law

the development of processes to ensure food safety; and

such other purposes as the AMS determines to be appropriate.
Ambrook Note: 
You are likely an eligible 'operating processing facility' if you slaughter animals on your farm for any business purpose. Even if you have never known it, you are likely operating under an

FSIS inspection exemption.
---
Terms
This funding opportunity does not have a Federal cost-sharing or matching requirement for fiscal year 2022. Such information should not be included in the FY2022 submitted application. However, there may be a $1:$1 matching requirement for subsequent MPIRG fiscal years.
---
Application Instructions
Only electronic applications may be submitted via Grants.gov in response to this RFA. Find the Grants.gov page for this opportunity at this link found under either the Assistance Listing number 10.180, or the Funding Opportunity Number "USDA-AMS-TM-MPIRG-G-21-0001."
For an overview of the Grants.gov application process see Grants.gov's Apply for Grants webpage. The Request for Applications contains the information needed to obtain and complete required application forms and AMS-specific attachments.
Support
---
Forms
SF-424
Application for Federal Assistance
---
---
---
Details
Release Date
March 31, 2022
Organization
U.S. Department of Agriculture (USDA)
Financial Instrument
Grant, Cost Share
Maximum Award Amount
$200,000
Total Program Funding
$23,000,000
---
Updated October 12, 2022
This information was gathered from public sources. Ambrook is not responsible for or able to affect the results of any financial programs listed, nor are they responsible for any incorrect information that is listed or is on the hyperlinked external sites. All information is subject to change.
---
Explore hundreds more programs on Ambrook.